The History of Acheron.org
by dangermouse (1st January, 1999)
It's hard to believe, especially looking back, that acheron.org is now two years old, 730 days, etc.. This article will explore the history of acheron.org from its very beginnings as a small, shit worthless page to its comparatively larger cousin as it is today.
There were many highlights and a few disappoints over the two years that acheron.org has been around. The following will try to explore them all.

The beginning
In 1996 a guy called rGt and myself (wk - weeping killer - yes, I know the name sucked) opened an art scene related BBS called acheron. With another site, Incubus, under our belts, we were well placed to open a board which we knew would attract the crowds. And that it did just that. Almost immediately acheron became a success. We had every iCE pack ever released available for download, and pretty much every demoscene newsletter ever written (well, almost).
We didn't have one thing though, affils. Rgt and myself quickly set about getting our BBS affiliated with every group we could think of. About this time I was making my foray into the IRC world of the scene. We quickly sent an email to Rad Man about getting the Australian HQ for ACiD Productions. What followed was a tale to be told.
Rad Man black mailed us, err, informed us that he would give us the ACiD OZ Agora if we purchased an Official ACiD Productions T-shirt. Rgt and myself debated spending $50 on a bloody shirt for about 10 minutes before I conceded. I had a job, he, the poverty stricken bastard, didn't. Of course, not knowing any better, I went off to my local bank to get a bank draft. Not too long after I received my T-shirt which I have never worn and the ACiD OZ Agora.
Unfortunately, late-1996 saw the dismal death of acheron the BBS. Somehow, the BBS's own sysop, Rgt, had uploaded a virus onto the Incubus machine, which then promptly spread itself over the network and killing acheron in the process -- every file and ANSI screen (that's why there are no screen shots).
top of page

The first web site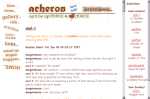 One night, whilst laying in bed whimpering about the loss of our prized possession, and secretly plotting the death of my counterpart, I came across a cool idea inside my head. What if acheron became a site on the Internet? And with that thought in mind, it did. I don't think I was too sure about what the hell the site was about, so I just did the obvious thing and made a site about the art scene in general.
The web site that followed was one of my first, so you can pretty well surmise that it sucked considerably. It was a frames based layout with 'trying to be trendy' graphics and of course, no content. The site somehow got a few interviews with well known old schoolers, but not much else. This site quickly died.

top of page

Colornox to the rescue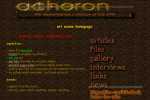 Around March 1997 the new design of acheron was launched, mainly thanks to Colornox. He redid the graphics with a more 'scene-ish' feel to them, modeling them partly on the ACiD Artpacks site (which he also did the graphics for). The site however did not have any real navigation structure, as the menu was placed over on the right hand side (a pretty bad place in web design).
With no disrespect to Colornox, the graphics were fine, but I think he was trying to design acheron totally, and therefore not giving me the freedom to do what I wanted with the site. The site was buggy was well, and frequently displayed incorrectly on larger screens and resolutions.
The content of the site however was not really a major problem. The updates slowly kept coming, mainly interviews than anything else though. The files and gallery section were still defunct, and rgt slowly diminished into obscurity. The site was still not where I wanted it to be.
top of page

A new course, a new design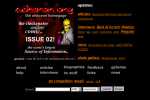 At the start of 1997, I got into a course at University, a Bachelor of Multimedia. This course, even in its first year, taught me a lot about what good design was all about, especially on the web. I quickly realised that acheron was pretty piss poor, and promptly set about redesigning the site mid-1997..
The new design was focused around a Roger Black approach, using mainly red, black and white. The design was favoured by the scene, and many still like it to this day. It is under this veil that acheron.org became a much more popular site. The content started rolling in, all mainly in response to maestro's "My Message to the Scene" article, which sparked the whole "ANSI IS DEAD" debate that went on for months.
July 1997 saw acheron feature the ACiD Gear line, and was the major news event on the site at the time. Around this time, CIA announced via acheron that they would be releasing a huge #50 pack. They made a huge thing about it, even making a banner especially for acheron.
Whilst on the subject of banners, the third design of acheron was first time these were seen. The central idea behind them was to provide a free place for scene groups and sites to advertise there latest offerings and themselves. It was a great hit, and many people with the scene utilised it.
I remember it was around this time that a warez group of some kind decided to rip the whole acheron design. It was amazing. They basically stole the HTML code, images such as the arrow (same filename) and even the colour hex codes for the orange links! Of course, we felt we had to run a news story about it.. :)
October of 1997 saw Acheron gain its domain name, and become acheron.org. The site also got considerably more space than before, meaning that the photo gallery could make its return. I suppose this was a big turning point for me. It was at this point that I knew I had made a commitment to acheron, and indeed the scene.
(Oh btw, acheron used to be on lit.org, and this was the reason the photo gallery had to take a holiday.. )
top of page

Back to the frames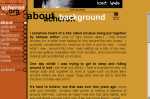 In amongst the sudden redesign fad starting with artpack.acid.org, April 1998 saw the release of yet another new acheron.org. This time, I had opted for a faster, frames based layout. The site introduced quite a few new features, including the art gallery and pack reviews (thanks to The Extremist of Operation Rescue).
Along with a new design, also came a new hosting service for acheron.org. Element Design, run by some scene guys, was the new company chosen to meet acheron's needs. The server was much faster, and shit, the connection rocked. Many people used to complain at how slow acheron.org used to be, and I don't blame them.

top of page

The age of bland

Around July-August of 1998 Rw, the man responsible for Element Design, approached me about the amount of bandwidth that acheron.org was pulling per month, around 2+ gigabytes. This quite a high number, and alarmed me considerably. I promptly set about designing a new site which would use minimal graphics, therefore reducing the amount of bandwidth -- and how much money would be pumped into the hosting fees.
The site that followed I was not too happy with from the outset. To me, it looked very bland and far from what I really wanted the site to be. At the time however, I felt that I had to do something, otherwise the future of acheron.org might have been at stake. And yes, the bandwidth problems ceased, and site became even faster than before.
top of page

It just wasn't good enough

A lot of people to this day still dislike the previous design of acheron. In late September I formed a little mailing list of scene buddies and we talked about what was missing from acheron. Spot also approached me around this time, stating that he thought acheron needed to get back to its 'scene roots'. I agreed with him. So a new design was brought up, as well as things like a fully-fledged discussion board. This mailing list was very productive, and gave me some great ideas.
So, I set about redesigning the site. Immediately a black background was chosen, as many many people to this day still comment on the old acheron design that had the same background. Colours appropriate to the name of the site, (which means the river in Greece which is fabled to run to hell), utilising reds, yellows and oranges.
The new design was launched in October 1998, to a very favorable reception. I think I had finally designed a site which had an easy navigation system, looked pretty cool and had the things that the scene wanted. The discussion board came online one month later, and I haven't looked back since.
top of page

The awards thing

Awards 98 was supposed to be a great event, with a democratic voting process so that the entire scene would be able to contribute. How wrong I was, and the few that actually supported the whole thing: Cthulu, etc..
Because some people cheated the system, a doubt remained as to whether any of the final results would be real or be tampered with. Therefore, it would be rather foolish of me to continue with such an exercise, and would be unfair to the winning or losing artists in the long run.
top of page

The future of acheron.org

Acheron will continue to serve the underground art scene in the future. In 1999, we will try to make acheron an even better place to find out what's happening in the scene, to find the latest packs, view some great art, and above all, have some fun.
I would also like to thank the people who also work in the background to keep acheron afloat, namely the staff writers and those who have contributed over the years. Spot I would like to thank a lot, as he has written quite a few articles and presided over a number of interviews that I myself could not have done. Inazone, for being the cool voice of the moment. Exocet, for converting those damned packs. Creator for looking after a few Blender Kombat events. Pariah, Meatpod, Crowe, and all the others who have given something back to the scene.
And Mongi. Without Mongi, hirez.org, Mr. Eh's first dream, would not be online today. Now the sister site to acheron, I'm sure hirez.org will service the hirez scene with as much determined effort and attention to detail as acheron has serviced the art scene. I'm sure the scene wants to see it succeed.
It's been a great two years..

top of page

Discussion Topic this month:
What do you guys think of acheron.org? Has it been a help to the scene over the years or a hindrance? What are your highlights of the site, or how has it helped you or your group?

>> discussions (General Art Discussion)